By Jordanne Semper-Scott
The coronavirus pandemic has disrupted everything, including how children are taught. In March of 2020, the federal government announced that all schools would shut down and resort to online learning. The federal government also announced that it would no longer be handing out special education waivers to students with learning challenges. Instead, they would provide modification to the Individualized Education Program (IEP) in the form of a remote learning plan, which led many school districts to not provide children with the special education services that they are entitled to. According to data conducted in 2017-2018 by Education Week, the U.S. had 13.7 % of students enrolled in special education (ages 3-21). 
Many have claimed that the pandemic negatively affected special education students. However, as I did my research, I found reports that indicated the claim was not entirely correct. Some reports have shown both signs of progression and regression in special education students. On one hand, you have parents worried about their children not being able to receive the special education services; on the other hand, you have parents of children who are thriving.
In an article in Tufts Now, Angela Nelson writes that special education students were "most affected by the disruption of the pandemic" because it is hard for teachers to provide the needed services to children with a variety of learning challenges. Before the transition to online learning, children with learning differences were able to access their special education services and IEPs in person. Now with the pandemic, Dr. Tyish Hall Brown, a director of Behavioral Health Services within the Howard University School-based Health Initiative, states that "the virtual world has been difficult for children and their families." Services such as speech therapy, reading comprehension instruction, social skills, and small group interactions, among others, did not transfer to the virtual world. Teachers weren't prepared adequately for special-needs virtual learning and parents were put in a difficult position between keeping their jobs and taking care of their special needs children.
In March 2020, the federal government issued a statement advising that there would be no special education waivers. At about the same time, the former U.S. Secretary of Education Betsy DeVos issued guidance urging "flexibility." What this meant was that under the Individuals with Disabilities Education Act (IDEA), services would have to be provided to students. However, the systems were not in place to help transition the services from face-to-face to virtual. For example, IEP evaluations typically occur in the spring. Last year, hundreds of children were not evaluated and this negatively impacts what kind of services they would receive.
Ms. Tracey Felton, a sixth-grade science teacher at Hyattsville Middle School, did not have a lot of happy stories to share. However, she does tell the story of a special education student who "blossomed" when they did hybrid learning. Likewise, Kate Blanchard, writing for Teach for America, told the story of a young boy named John, who has ADHD and a language disorder, and how he thrived in a virtual setting.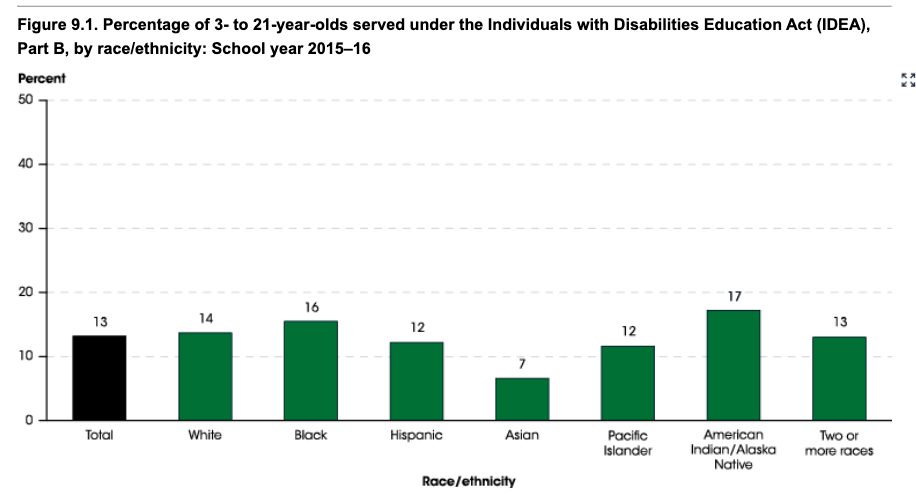 According to Education Week's 2017-2018 data, 85.9% of students in special education are children of color. If special education were to collapse, a significant number of Black, Latino, and students of color would be impacted.
Based on my interviews with teachers and my research, these are the four factors that affected the delivery of special education services: lack of parental involvement, lack of teacher preparedness (transition special education services from in-person to online), federal education policy (guidance on how to transfer special education assessments to the virtual space instead of "flexibility"), and resource availability ("extended time option, modifying their work, some type of correspondence with the teacher monthly with their goal," stated Mrs. Luwan Cottrell, a speech & language pathologist at Ardmore Elementary School).