By Brigitte Bonsu
Twice a month a long line of people line up outside of the Takoma Park Food Co-op and patiently wait for fresh food and vegetables. With the COVID-19 pandemic, food distribution centers are starting to serve their communities in more ways. In the last two months, Small Things Matter (STM), a student-run, non-profit food distributor, has led their servers to community centers for COVID-19 vaccinations.
Food co-ops are reshaping charitable distribution networks across the Washington area and because of COVID-19, they expanded their mission to offering vaccines to the communities they serve.
Founded in 1980, the Takoma Park Food Co-op has been a hub for fresh food and healthy living. Although it's located in a community that's growing in popularity, a number of major grocery chains have left the area and there is only one major medical facility, Adventist Hospital located on Healing Way in Takoma Park.
Small Things Matter partnered with City of Takoma Park, Giant Pharmacy and Continuum Healthcare Services last month to bring Pfizer vaccines to local underserved residents.
STM appears every other Tuesday, as well as Friday mornings and on weekends, to distribute fresh produce and dry food to underserved minorities who live in this community as well as those who travel here from food deserts. Food deserts are low-income areas where a large grocery store is more than a half a mile away. In numerous urban and rural communities, minorities visit neighborhood corner stores to buy their groceries for the week and fast food restaurants are hot spots to get a quick meal.
Many people in the Latino community are regular visitors of the food distribution and have to bus back home with their meals. According to a health, income and income inequality article in the D.C. Policy Center, "Over 40 percent of households have no vehicle available."
From the lack of transportation to the lack of food, many families now have to deal with a new problem: getting the vaccines.
"Physically getting a vaccine is definitely another barrier," said Lana Anderson, 17, founder of Small Things Matter. "A lot of vaccine sites are very far away by car; not everyone can be transported to the vaccination sites. There are many factors preventing people from getting vaccinated, but I think getting there is one of the big ones."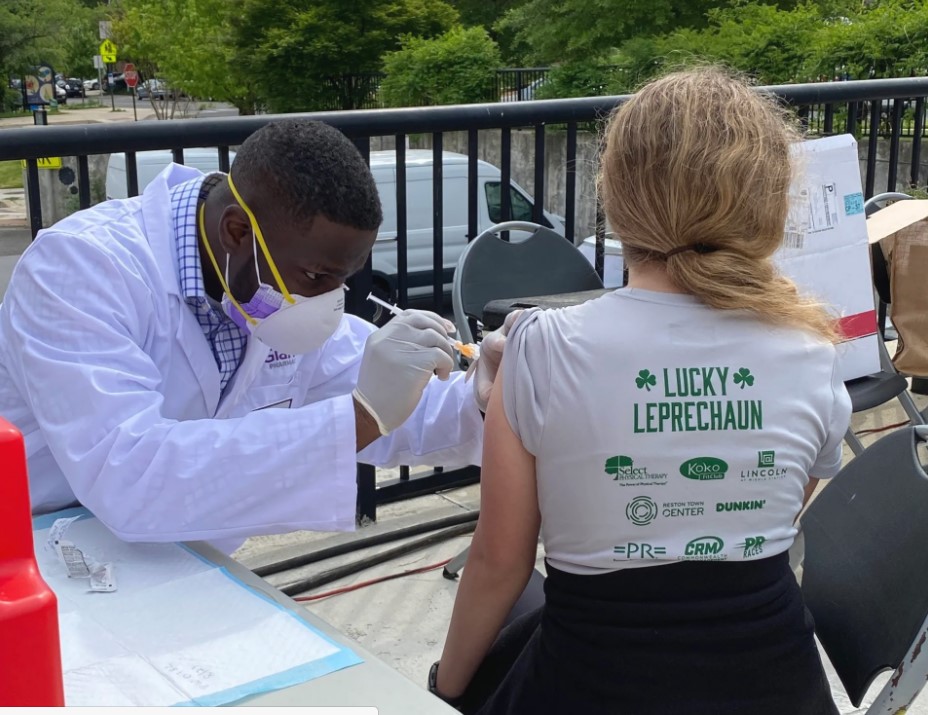 Language can also be a barrier that food distribution sites have to break to encourage regular residents to get vaccinated.
"There can be a lot of very complex vocabulary. It's scary to take something that hasn't been fully explained to you," Anderson said. "More work should be done to make sure that language barriers and other accessibilities issues are addressed."
A high percentage of attendees at the food distributions speak Spanish.
These food distributions are now more crucial than ever.
"We are now looking at food as medicine," said Dr. Mark S. Johnson, chair of the Department of Community and Family Medicine at Howard University.
Low access to fresh produce has led to poor diets and nutrition, causing a greater portion of the African-American and Latino populations to suffer from chronic diseases.
For example, "African Americans ages 35-64 are 50% more likely to have high blood pressure than whites," according to the Centers for Disease Control. This continues to put this demographic at higher risk in the pandemic.
Some sites have already been trying to aid in this issue. "Our vegetarian soup kitchen has been open for 40 years," said Rocky Twyman, 73, a public and media relations volunteer at the Adventist Community Service of Greater Washington Soup Kitchen.
Vaccine hesitancy still prevents some families from going. Anderson says she "hopes that we've built a bit of trust between STM and the families we serve."